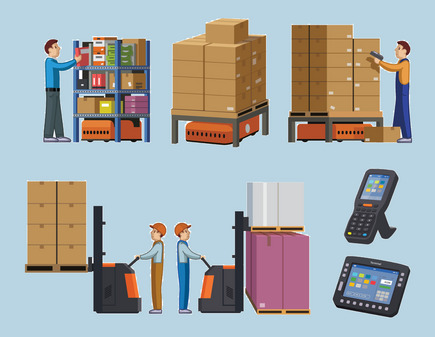 An Asset Management system can help you keep control of your equipment, your assets. It's not as expensive as you might think and it's pretty easy to implement too. If you are thinking about purchasing either new or second hand equipment from us then perhaps you should also think about how best to keep track of them as well.
If your assets and equipment are for use in-transit and distribution, then do you know if they are either –
Lost?
Stolen?
At another site?
With a customer?
With a supplier?
Damaged and awaiting repair?
Written off?
Just seemed to have vanished but you're not sure where?
Did you know that the typical annual shrinkage rate for RTIs is between 5% and 8%?
We offer a free preliminary site survey to assess your exact requirements and ascertain where the main aim needs to be focussed. The costs of both hardware and software technologies needed to implement such a system have fallen considerably in the past few years, so you might be surprised how little you have to spend in order to realise a significant return on investment.
The end aim is to know exactly where your assets and equipment are at any one given time, all by the press of a button.
But it is not just about keeping track of your assets, we can also help you to schedule routine maintenance checks on all your equipment to comply with the latest Health & Safety requirements if your equipment is in a static environment, such as a being used solely in a warehouse.
You will then know -
That your equipment in good working order
That your equipment is safe to use
When your equipment was last checked for faults
That you comply with the latest Health & Safety regulations
We can advise you which technology is best suited for your individual requirement - whether it will be simple bar codes, RFID tags or a Bluetooth solution. In many cases it is often a mix of these technologies that provides the best solution.
Bar codes are very common-place and very cost-effective to buy, buy they do require a direct line of sight in order to be read, typically from 10 inches away.
"Passive" RFID tags have a transponder and antenna in the inlay which are powered up by the radio waves sent by a scanner, and in return the tag sends a signal back which is read by the scanner.
"Active" RFID tags are powered by a small battery which emits a signal which is detected by the scanner and read. The advantage these tags have is that they do not need direct line of sight to be read so in conducting an annual audit/stock take, equipment with an RFID tag fitted can be read in a closed drawer or behind a desk for example.
The Bluetooth technology is a little different in as much as scanners are not necessarily required. As the Bluetooth tag is also "active" the signal can be picked up and read by any Bluetooth enabled device, such as a smartphone, tablet etc., although Bluetooth enabled scanners can still read them.
The read ranges are also vastly increased too – up to 100m outdoors. You can also enable a static pc to connect with the Bluetooth tags by way of a simple dongle inserted into the USB port. This way the pc can track any asset within around a 100m radius and also offer you a complete time and motion study of any particular asset.
Of course any information gathered by an Asset Management system would be fairly worthless without the software to translate it into meaningful reports and useable management information. Our software does just that, from a simple yet customisable dashboard to detailed reports and analysis our software can manage everything. From reminders of routine inspections to tracking assets throughout the UK and Europe, it is all available to you at the press of a button. We can even integrate our software with your current Warehouse Management System to allow for complete seamless control.
It doesn't stop there either as we provide RTLS (Real Time Location Systems) and Stock & Inventory controls too. These services are quite advance using all the technologies of RFID, Bluetooth and WiFi to provide a complete warehouse management system that controls all aspects of goods in, despatch and stock & inventory. Our system could tell you, in real time, exactly where each pallet or asset was in the warehouse. It can even track and locate every pallet location in your racking, meaning you will never be wasting time and labour looking for lost or misplaced pallets.
We are confident that our Asset Management system with provide you with significant returns on investment, but our recommendation is to take things step by step to start with. Start at the bottom – have our free preliminary site survey to determine what you need. If the survey shows that the Asset Management system could be of benefit to you then we would suggest you start off with a small trial to test everything.
If these trials show that there is a need to track assets or stock in more detail, then the trial can be expanded. In our opinion there is no need to dive into the deep end without understanding what the system or software can deliver. We prefer the building block analogy – one block at a time until the structure is complete. We have the knowledge, labour and understanding to help you complete your structure every step of the way.