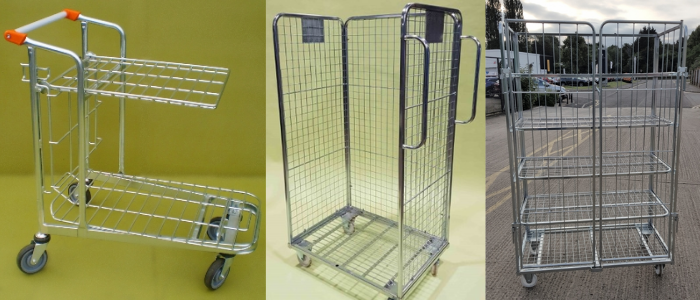 With the right trolleys and material handling equipment, transporting goods around the warehouse becomes more convenient and practical, as operators can ferry more goods to and from the warehouse dispatch points. Let's explore the different trolleys you need for an efficient warehouse.
1) Platform Trolley
Platform trollies are the most common trolleys found in the warehouse – and are the most versatile. They have a simple look and are useful in ferrying all types of goods to and from dispatch vehicles.
They have two fixed wheels for balance and two rotating castors for steering. Some models allow you to swap these wheels out when damaged, or replace them with anti-slip varieties in wet conditions. As platform trollies do not have sides, we recommend securing heavy loads in place with straps to avoid them slipping off the trolley.
2) Tool Trolley
Tool trolleys are small mobile platforms with various shelves that allow technicians to store equipment and tools, including fasteners, pliers etc. They are excellent at facilitating rapid repairs and maintenance around the warehouse.
3) Cage Trolley
A cage trolley is a platform trolley with collapsible metal sides. This prevents items from falling off while in transit and also increases load capacity. The sides are made from wire mesh or sheet metal and can be removed when not in use.
4) Shelf Trolley
A shelf trolley consists of two or more storage platforms – often at different heights – to enable warehouse operatives to transport boxes of different sizes and configurations without having to stack them on top of each other. Some shelf trolleys have a slanting slope to hold items in place during transit, and some come with cage sides or metal bars around three sides, leaving one side available for loading.
5) Picking Trolley
So-called picking trolleys are two-wheeled transport units with a small loading platform and a long handle, designed for vertical stacking of boxes. They allow operatives to transport several heavy items or boxes in comfort without risk of a back injury, and are widely used in the picking process.
Find Out More
Having a variety of trolleys and handling units available lets your warehouse operatives respond quickly to tasks and complete efficient goods movements without the risk of injury. Please browse our website to find out more about our trolley range and get in touch with one of our service team to request a free quote.