This is our range of large sheet metal and mesh forklift tipping skips which are designed to facilitate the collection and disposal of waste and scrap. These skips are particularly suitable for the collection, handling and tipping of bulky waste like cardboard, plastic wood and polystyrene.
The skips can easily be tipped from the forklift truck just by moving a lever, however for the larger models we recommend the application of our optional hydraulic cylinder which ensures a better balance during the tipping phases.
The tipping skips can easily be moved by hand thanks to the four large diameter wheels, two fixed and two swivel, mounted on bearings.
The skips come in a range of standard RAL colours so that they can be colour coded for specific waste types if required, you can select the colour from within the options. Alternatively a galvanised finish is available.
All skips come with CE marking plate as standard.
For shipping we only charge what it costs us to deliver the skips. We charge by the pallet to your postcode, which is calculated in the checkout - or you can collect for FREE from our premises in Kettering. The skips have a 3 week lead time.
Independant Hydraulic Cylinder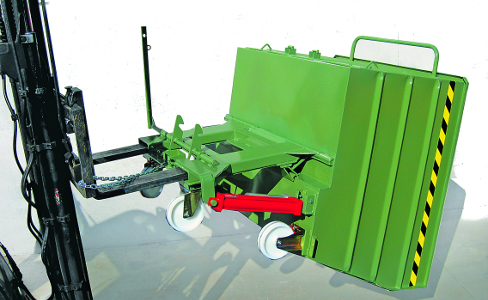 An independant hydraulic cylinder for gradually tipping the dumping container is available on request. This is recommended for the larger tipping skips and does not result in an increase in size as they are installed within the frame of the dumper.
The hydraulic cylinder also acts as a noise reducer during tipping and has a buit in compensator that regulates itself based on the capacity required.
Optional Finish and Lids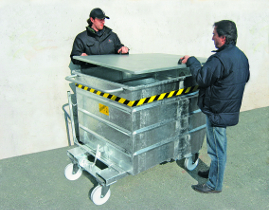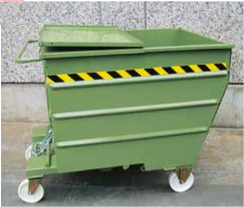 Our dumping containers can also be supplied with a galvanised finish to prevent rusting. We can also provide lids or covers for the tipping skips. We supply sheet metal lids with two handles as well as centrally split hinged sheet metal covers. Contact us for more details.
Setting Tanks and Lifting Hooks for Skips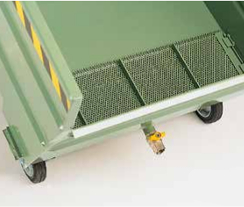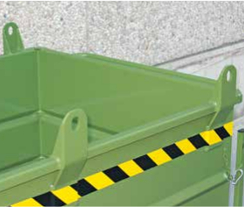 We can supply on request setting tanks with grids of 4mm holes together with a ball valve which can be used to seperate liquid and solid substances.
We can also attach lugs with lifting hooks onto the skips - contact us for details.
Automatic Tipping Release
Available on request for all of our tipping skips is an automatic tipping release mechanism that is a practical solution for tilting containers.
To use you lift the bucket and place the mechanism above the outer edge of the waste container. You then simply lower the bucket so as to perform the necessary presure to operate the release mechanism that generates the tipping.
Brake System and Chain Box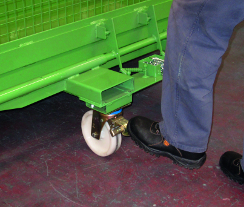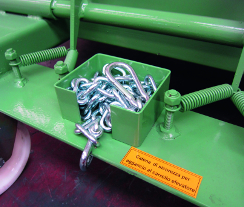 An optional brake system can be attached to the wheels ensuring better stability in the work position.
A feature of this range of tipping skips is a metal box that contains the attached safety chain.