These scoop or shovel forklift tipping skips can be emptied directly from the forklift truck just by pulling a rope connected to the tipping lever. This allows goods to be easily, automatically and safely dumped, minimizing working time and eliminating the risk of injury. There is a safety device against accidental dumping.
These extremely robust tipping skips are of a scoop or shovel type design and are especially suitable for the collection and unloading of all loose materials including snow.
The skips come in a range of standard RAL colours so that they can be colour coded for specific waste types if required, you can select the colour from within the options. Alternatively a galvanised finish is available.
For shipping we only charge what it costs us to deliver the skips. We charge by the pallet to your postcode, which is calculated in the checkout - or you can collect for FREE from our premises in Kettering. The skips have a 3 week lead time.
Optional Finish For Drop Bottom Skips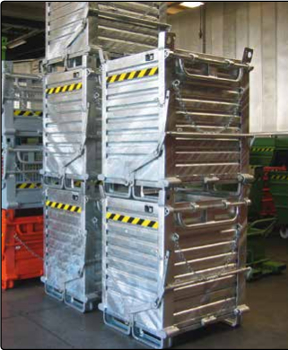 Our shovel tipping containers can also be supplied a with a galvanised finish to prevent rusting.

Watch Our Shovel Skip Video