Shopping Trolley Range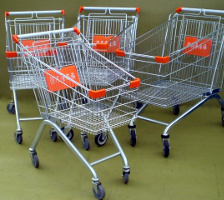 A range of new shopping trolleys of different sizes suitable for customer use or warehouse picking. The shopping trolleys are available with or without baby seats depending on your application.
These trolleys are well made from automated machinery and are zinc plated as standard. The wheels fitted are good quality rubber tyred items with bearings making the trolley easy to use and mobile.
Main Features
Robust nesting trolley design
Large range of castor options for trolley
Customised trolley handles
Bright zinc plate lacquered finish on trolley
Optional coin locks for trolleys
Child seats available for all trolleys
Contact us for optional variations.
Contact Us