Spill Containment, Sump Pallets & Flooring, & Storage Racks and Cabinets for drums and IBC's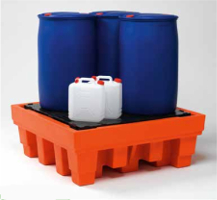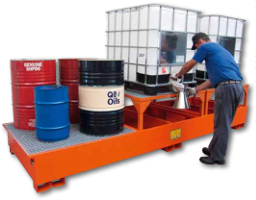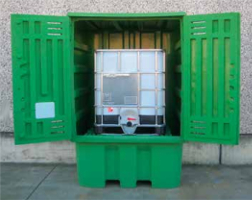 Spill containment is an import aspect of our environment, ranging from sinking oil tankers to a discarded oil filter. In the work place secondary spill containment equipment is used to contain any spillage and protect the environment.
The principal piece of equipment is a sump pallet or spill pallet which can contain the contents of drums or intermediate bulk containers (IBCs) stored above it. These spill pallets are bunded containers and are generally made from either steel or plastic, more accurately polyethylene, and both sump pallets suit different applications.
To accompany these spill containers, we have an array of racking and shelving to suit the bunded tanks and drip trays. We also supply a selection of different cabinets and external storage options for your drum and IBC storage and spill containment. Also in our range are bunded sump flooring systems for the work place which is modular and can cover spill control over a wide area, including forklift use on the steel sump flooring.
Pollution Regulations
There are various regulations that cover the storage of oils and hazardous liquids and general spill containment in the work place including Control of Substances Hazardous to Health Regulations 2002 COSHH and Oil storage regulations from the Environment Agency.
The Environment Agency has issued the Oil Storage Regulations for Business, 06/05/2015, which state that secondary containment must be installed to contain any spills and leaks. The secondary containment for a drum (usually a drip tray) must have a capacity equal to or more than 25% of the drum it's holding. For intermediate bulk containers (IBCs) and other single containers, the secondary containment must have capacity to hold 110% of the capacity of the container.
Sump Pallet Range
Our sump pallets are designed to take a range of different volumes to suit different multiples of storage drums and IBCs. The spill pallets are all fully watertight, tested and certificated to ensure that should a drum leak, then the spill is controlled and contained. Our steel sump pallets are of a high quality and the spill pallets are heavy duty. Please note though that steel sump pallets are not suitable for corrosive acids and alkalis, please see our range of plastic spill pallets for these liquids.
Our range of plastic spill pallets is varied and covers small items and drums through to multiple IBCs. The plastic is actually polyethylene which is then rotomolded to form the spill tank, with a plastic grid to form the storage surface of the pallet. Some of our spill pallets have a galvanized steel grid fitted which is easily removed from the container for cleaning. We have a several different ranges of plastic spill pallets to suit different spill control applications and budgets. Some of our polyethylene sumps are tapered which allows the polythene sumps to stack within each other to save space when not being used for spill containment.
Shelving, Racking and Storage for Drums & IBCs
For applications in the workplace where multiple drums and containers need to be stored and accessed, we have numerous different types of shelves and racks which have drip trays for spill containment or sit over steel sump pallets for spill control. The shelves and racks are modular so you can build different drum storage systems to suit your warehouse.
If you have to store drums and intermediate bulk containers outside, or you need secure storage inside, Steps and Stillages Ltd have an assortment of different cabinets and cages to suit most applications. Many of our cabinets for IBCs and cabinets for drum storage have vented panels to vent the storage cabinets of any fumes that may accumulate. The storage cabinets still have sumps to contain the oil or liquid in the drums or IBCs above, as is required by regulations for spill control.
Many of our drum storage cabinets have weatherproof lids and are lockable so the storage of the drums and containers is safe and contained. For smaller containers and tins we have storage cupboards fitted with containment sumps and made from galvanized steel for a long life.
Alongside the cabinets for drum and IBC storage are cabinets and boxes for general outside storage. We have steel chests with a lockable lid which is watertight for outside use as well as a plastic stillage with a lid which is also suitable for external use and can be moved by forklift or pallet truck. There is a general purpose mesh cage which is galvanized and lockable or alternatively there is a lockable steel shed which is also galvanized.
Sump Flooring
For industries that use a large number of drums and IBCs, there is a need for a sump floor to contain any spills from drums or containers. These spills could damage the environment or maybe just your floor, and certainly pose a slip risk for the operatives.
Our range of steel sump flooring is a modular system which can be configured to suit to your workplace and spill control system. The steel bund floor can even support a forklift with the workplace floor having a substantial load capacity of 2000kg per forklift wheel.
As an alternative to the steel sump flooring we have a plastic spill flooring system which is made up of modular low level plastic spill pallets which interlock to form a workplace floor to contain any spills. With this range of polyethylene sump floor pallets are plastic ramps to suit and racks and containers for storage of drums and cans.