Stillages, Pallet Cages and Picking Bins

Here at Steps and Stillages Ltd, as our name suggests, we have a comprehensive array of stillages in all shapes and sizes. We have an assorted range of standard stillages and cage pallets, some held in stock here in Kettering. As a manufacturer, we are also able to make custom and non-standard stillages to suit your container requirements, both in small quantities or larger quantities on our 4 automatic robot welding lines.
Sheet Steel, Mesh & Folding Stillages
We have broadly split the stillages on our website into the categories sheet steel sided stillages and pallet bins, mesh sided stillages and cage pallets and then all folding stillages. We have a plethora of different stillages, either surf our different pages of containers and boxes or call us and we will direct you to the stillages you want. If the stillage you see is not here, then again simply call us and we can discuss your storage and handling requirements with a view to producing you a custom stillage.
Stillage Colour Options
There is again a large choice of finishes and colours available. Most of our standard stillages are powder coated with a choice of 3 standard RAL colours.

In the main, most of our custom and bespoke stillages are electrostatically painted with an acrylic paint for good rust inhibiting properties. For the stillages we hold in stock, our standard colour is Blue RAL 5010, unless stated otherwise.
Galvanized Stillages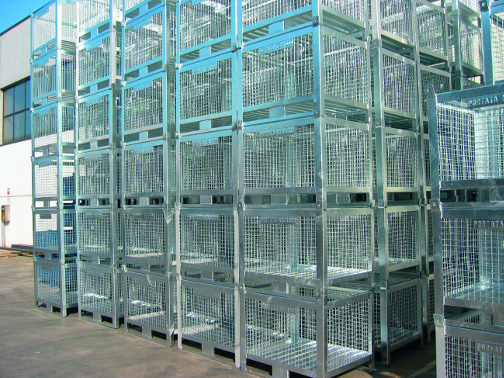 There is also an option of galvanizing for most stillages and cage pallets. This hot dip galvanizing process is the ultimate long life and rust inhibiting technique, albeit not the cheapest…! Call us for your galvanized stillage requirements.
All of our stillages are made using prime quality steel. As a family engineering company which has been fabricating cages and stillages for 2 generations we are very experienced in the design and welding requirements of the stillages. Any components needed, such as pallet feet, are checked to ensure optimum compatibility.
Stillage Design & Certification

If the stillage has a watertight specification it is fully individually weld tested with dye penetrant and certified.
Whilst I guess to many, a stillage is just a container or metal box to 'chuck stuff in'… to us they are much much more! There are so many different designs and subtle features to be considered, to us stillage design is a science!
Stillage Choices
A key choice is the feet and stacking method. In the UK, the pressed cupped stillage foot is the traditional choice. They offer easy stillage stacking for a forklift driver and are relatively strong. The downside to the cupped stillage foot is that they sit outside the framework of the stillage so you can't sit 2 stillages side by side, especially important if you are transporting stillages and cage pallets on lorries.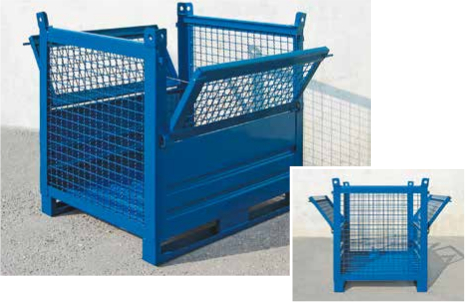 Whilst the difference between mesh and sheet steel is an obvious choice for the sides and base of your stillage, even the seemingly obvious choice of an opening half drop front can be tricky - why not have 2!
Please have a good look through our various ranges of stillages and pallet bins. There are also a range of options for stamped name plates and numbering etc. If you have any questions, please call us...
Products Related to : Stillages and Pallet Cages