Tipping Skip & Drop Bottom Bins

Waste handling comprises the collection and movement of all sorts of different items and scraps for different companies and industries and invariably tipping into a skip or bin. Steps and Stillages Ltd have a broad range of tipping skips, swarf bins and drop bottom bins to cover most waste handling applications.
The popular choice of tipping skips on wheels is central to the range offering manoeuvrability in production areas with easy emptying when the skip is full. Bottom opening bins and skips offer an added alternative method of waste handling with a rugged stillage style container.
CE Certified Tipping Skips

Our range of tipping skips, sometimes referred to as self tilting skips, are all CE certified and manufactured to a high standard. The tipping skips come in an array of different skip bin sizes and configurations and are available on wheels or on pallet skids for use by forklifts when emptying by tipping into a larger skip.
All the sheet steel tipping skips are fully welded and watertight. Each skip has the welds fully dye tested to ensure no leaks and is then individually certificated.

Tipping Skip & dumping Bin Options
The tipping skips have a range of options available including tipping skip lids, galvanizing and a hydraulic damper to control the tipping into a skip. The tipping skips are powder coated or painted, depending on the range of skips with options of bin colours, or some tipping skiops are available in a galvanised finish. The galvanizing offers a rust proof finish, and along with our polyethylene tipping skips with a plastic bin are suitable for food use.
Drop Bottom Skips & Self Dumping Bins
Our drop bottom bins are sturdy steel stillages with a high load capacity. The drop bottom bins and bottom opening stillages are available in several different skip ranges with lots of bin sizes. There are 2 styles of bottom opening stillages, single base opening and split base which opens in 2 halves. These bottom opening stillages can be emptied into a large skip or hopper and then shut automatically without a forklift driver having to get off his forklift. Some drop bottom bins have lifting eyes on the top corners to allow overhead lifting of the stillage with chains if your waste handling needs necessitate lifting.
We have choices of bottom opening stillages which can be emptied and then shut the drop bottom base automatically without a forklift driver having to get off his forklift. A safety lever ensures the drop bottom container can not empty by mistake.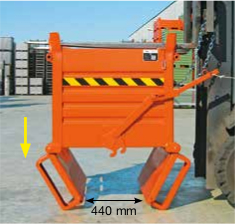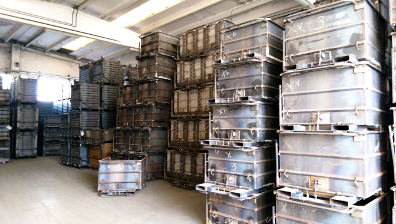 We stock some common tipping skips and drop bottom bins with othr bins made to order and with skip options. We hold stock of some popular sizes of tipping skip here in Kettering and the factory holds part made drop bottom bins and containers as work in progress.
Products Related to : Tipping Skips and Drop Bottom Skips