Steps and Stillages Ltd
Manufacturer of Storage and Distribution Equipment
Steps and Stillages Limited specialise in the design, development and manufacture of stillages, mobile safety steps, roll cages, roll pallets, trolleys, containers, garment rails and all manner other equipment for varied applications across industries such as manufacturing, retail, horticultural, Industrial, warehouse and distribution.
We pride ourselves on providing cost effective, high calibre products and services as reflected in our significant numbers of blue chip customers. We produce a broad range of standard products and if required, we can manufacture custom designed equipment to your requirements. We have further augmented our range with additional products from several factories in UK and mainland Europe, partner companies we can trust with quality products and competitive prices.
Steps and Stillages deal direct - there is no network of distributors, wholesalers or middlemen. This ensures that you can be confident of a top quality, long lasting product at a value for money price.
We work from a substantial, modern site close to major road, rail and air connections. We have a wealth of experience, which when coupled with the skills of our dedicated production team, results in an unsurpassed standard of workmanship. Clean welds, consistent thicknesses of protective coatings, smoothly running wheels, care and consideration for a customer's needs and much more.
If you are looking for gas cylinder cages, budget or premium, we have a trading division dealing specifically with this market. Visit our website www.sandsgascages.co.uk
Steps and Stillages Ltd is a family company spanning 2 generations and is probably best described by our Managing Director, Graham Reid: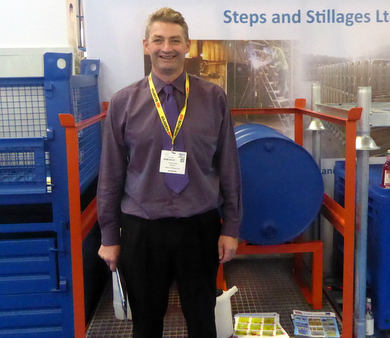 Dad first started up on his own over 35 years ago, whilst I was still at school. In the early days, he was mainly involved in the repair of roll pallets for the retail and distribution industry and I spent many school holidays "metal bashing", which meant I could weld before I could drive!

As we evolved into manufacture, we have supplied roll cages to just about every retailer over the past 30 years, but it was in 2002 when our range started diversifying. As a long time supplier to MFI (remember them!), they asked us to develop some mobile steps for their warehouse, that has now resulted in an expansive range of steps and a production capacity of over 50 steps per week. A similar story happened with stillages for Toyota and our stillage range is now probably the largest in the UK with some stillages made here in Kettering and some at our partner factory in Italy.

Nowadays, I think we have a pretty good and comprehensive product range. I've always thought it important to have some budget options as well as a premium quality offering to suit all pockets and applications. I'm often amazed just how varied our customer base has become. Years ago, it was just supplying roll cages to the big supermarkets, but over the years we've had to change and adapt - like you do! We still supply some of the big retailers but also cater for all sized customers and for quantities from 1's and 2's through to thousands.

We hold good stocks of standard products and thousands of second hand cages and stillages, literally! We can still make the weird and wonderful custom stuff though and it's some of those bizarre enquiries which makes my life so interesting and different each day!