Sheet Steel Stillage Range

The Steps and Stillages range of sheet steel sided stillages covers most applications that stillages and pallet bins are used for. We have an assortment of different sized stillages with different weight capacities to suit your application. There are also a number of different stillage feet options including stacking cupped feet, full length pallet runners or skids and a simple basic square foot. Most stillage containers have an option of a half drop front.
Many stillages have the ribbed sheet steel sides where the corrugations strengthen the sheet steel wall and base. If your cage bin application requires smooth sides and floor, maybe for the stacking of small items, then we have some smooth sided alternatives.
There is an "in stock" section which shows the stillages available from stock on a 2 day lead time. The lead time for made to order stillages and containers is generally 3 to 4 weeks. Made to order stillages have a choice of 5 standard colours.
We have two brands within the ranges of stillages and containers. Titan is our very heavy duty range and Tuff is our standard heavy duty.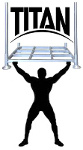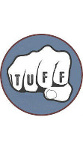 If you can't see a design or size that meets your container requirement, please call us.
Watch Our Stillage Video
Products Related to : Sheet Steel Stillages