These roll forward tipping skips can be emptied either by hand from the ground or when lifted by forklift truck. Designed to facilitate the collection and disposal of waste and scrap, which can be dumped by just by moving a lever.
Equipped with watertight tanks the tipping skips can easily be moved by hand thanks to the four large diameter wheels, two fixed and two swivel, mounted on bearings.
The skips come in a range of standard RAL colours so that they can be colour coded for specific waste types if required, you can select the colour from within the options. Alternatively a galvanised finish is available.
All skips come with CE marking plate as standard.
For shipping we only charge what it costs us to deliver the skips. We charge by the pallet to your postcode, which is calculated in the checkout - or you can collect for FREE from our premises in Kettering. The skips have a 3 week lead time.
Galvanized Finish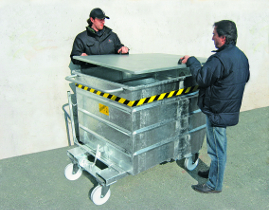 Our dumping containers can also be supplied with a galvanised finish to prevent rusting.
Lids for Skips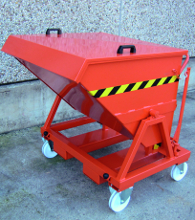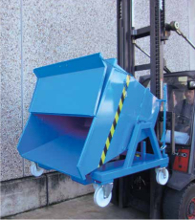 As an option we can supply lids or covers for the tipping skips to protect your goods.
We can supply a removable sheet metal lid with 2 handles. Or alternatively a hinged cover that allows you to unload without removing the cover. Contact us for details.
Setting Tanks for Skips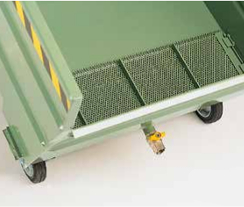 We can supply on request setting tanks with grids of 4mm holes together with a ball valve which can be used to seperate liquid and solid substances.
Brake System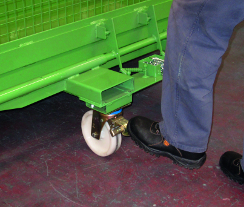 An optional brake system can be attached to the wheels ensuring better stability in the work position.

Watch Our Roll Forward Skip Video